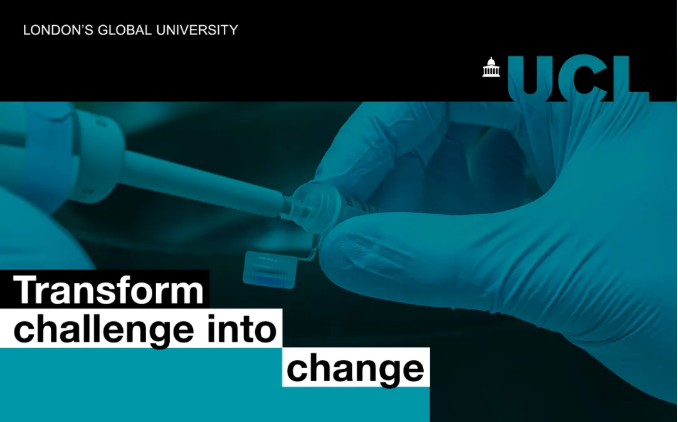 Dear fellow alumni,
Since the emergence of the novel Coronavirus (COVID-19) in December 2019, many of you have been in touch to ask what you can do to help UCL be part of the solution and respond quickly.
Our world-leading experts are already mobilising rapidly to address this huge global challenge, and you may have heard that we released clinical academic staff so that they could provide as much support to the NHS as possible.
Your responses and support for how we've mobilised is one of the many reasons why I'm proud to not just be a Dean here at UCL, but also an alumnus.
This global pandemic presents us with unprecedented challenges, the likes of which we have not faced as a nation or global community for generations. We are experiencing this together - coping with uncertainty while we find innovative ways to support each other, help those who might be more vulnerable, and navigate what this means for both work and life. But amongst the uncertainty is the certainty that UCL is doing everything in its power to find solutions to the challenges that COVID-19 brings, and at a pace that would, under normal circumstances, be considered impossible.
And you are helping us do this.
We all want to feel we are supporting our local and global communities in times of stress and challenge. That's why I'm writing to you now to ask you to make a donation to the UCL Coronavirus Response Fund. This initiative is raising urgently-needed funding for UCL's targeted coronavirus research activity. All donations to it, large and small, will enable us to continue to mobilise around three key areas that will contribute to the management, mitigation, and eventual halt of the virus:
1. Sequencing of the virus and vaccine development.
2. Monitoring and surveillance of the virus, its progression, and its impact.
3. Managing the unprecedented challenges to our healthcare system, the way we live and work, and the impact on society.
These are difficult times, but they also represent a real opportunity to make a positive impact. Over the last two weeks our academic and scientific community have rapidly mobilised in the service of UCL's founding ambition – to make the world a better, healthier and more secure place for us all. As UCL alumni, spread across more than 190 countries around the world, please know that now, more than ever, you remain part of the UCL community – and we need your help.
Please consider making a donation in support of our work today.
This is the donation link:

https://aoc.ucl.ac.uk/alumni/public-gbp-single?id=6e4bf9d2-de83-45df-b6a8-d868106dd90f&erid=85a5c476-c325-417f-a972-736dd47a4f0f&trid=85a5c476-c325-417f-a972-736dd47a4f0f&efndnum=01968367
To discuss making a significant philanthropic contribution to the Fund in more detail, please contact Angharad Milenkovic, Director of Development, at angharad.milenkovic@ucl.ac.uk.
I will continue to update you on UCL's COVID-19 response and research over the next few months as we face these uncertain times together. I am confident that with your help, UCL can make a real and very practical difference to the outcome of this global crisis.
With very best wishes,
Geraint
Professor Geraint Rees
Dean, Faculty of Life Science and Pro Vice-Provost (Artificial Intelligence)
UCL COVID-19 Response Lead